Publicising Innovation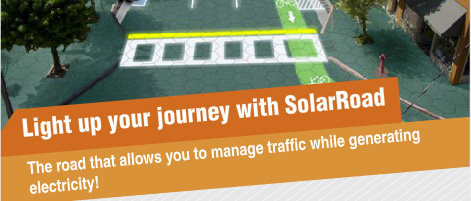 Sometimes it pays to "think sideways" as a lecturer once told me, to not necessarily think of how to completely replace something, but how to re-create it making it better.
The problem with having a great idea is publicising your idea to find customers, financial backing or public acceptance (it took a while for people to warm to the light bulb!)
For example, there's a couple in America who think they've done just that for roads and car parks.
To test their concept they've built a car park where the ground is made from solar panels with a re-enforced textured glass surface so that it gives grip and drains the surface. But they're not content with this, they're planning on adding heating circuits (powered from the pannels) to prevent snow and ice, keeping the surface clear, they're also looking at adding lED's to allow lane markings etc to be iluminated.
So, what's the point?
The theory is, for example, if Flyerzone's office car park (half the size of a football pitch) had this surface instead of block paving we should be able to produce enough electricity to significantly reduce the amount of power we require from power stations.


At Flyerzone we might not have a design specific to your latest idea but you can edit the text and change the images to suit your business, event or idea. The SolorRoad flyer was created from a gym flyer click here to get started
About The Author
Related posts