We want your foil business cards to print beautifully and without delay. So here's a few pointers on how to setup your artwork.
Simply supply the foiled area filled in black on page 3 of your PDF,  JPEG OR TIFF.


 
Design with a little tolerance for mis-registration
Foil stamping or blocking is a process where a solid area of the paper has a silver or gold metallic foil applied by heat and pressure.
This means that the  registration with print can vary by ±1 mm. So you should expect the Foiled element to move around the page by up to ±1mm. If you are aiming to cover a printed shape having a hard edge, then the Embossed area should overlap the printed edge by 1 mm to allow for any inherent variations in registration.
Foiling Imprint
The process of foiling leaves a faint cross hatch effect on the reverse of the product where foiling is applied on the front. Foil residue can also be present on the edges of foiled areas. This is inherent in the foiling process.
Don't try to align fine detail
Foiling is not suited to alignment with fine detail, such as small type, or shapes with thin lines.
Our rule of thumb:
    • Avoid positive lines thinner than 0.5mm, and
    • Avoid reversed-out lines thinner than 2 mm.
You'll get best results when you don't try to match the Foiling to printed objects, and instead treat it as a design element in its own right Seperate Foiled elements should have a minimum spacing of 1mm. Placing elements too close to each other will result in them becoming one shape and filling in.
Avoid using Foiling on small text. Fine fonts, particularly those with Serifs or tapered lines do not produce good results. The thinnest part of the font must be 1mm in width.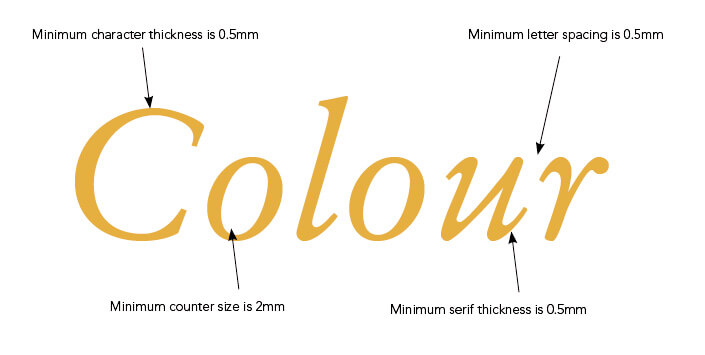 Avoid large Foiled areas over the page edge
Avoid having areas of Foiling bleeding to the edge as chipping and flaking of the Foiling area may occur once the job has been guillotined.

Vectors only for Foil Blocking
Foil Blocked elements must be supplied in vector format; any text shapes to be spot-varnished must be converted to paths/outlines.

Solid Foiling only;
no tints
Foiling cannot be specified as a gradient or tint, i.e. a changing tint from 100% to 0% over an area of artwork.
If you would like some more information or advice when setting up your foiling, please get in touch on help@flyerzone.co.uk or call us on 0800 122 3003.