Choose. Edit. Print.
Flyerzone has thousands of Leaflet and Flyer design templates to edit, online. You can search by Industry type, product, size, even colour. It's real easy!

Design Online →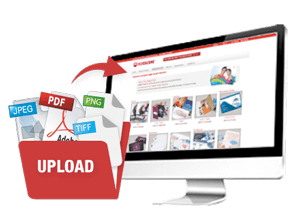 Upload Your Own.
Choose from a wide range of Leaflet and Flyer printing. Click below to view prices then upload your own file. You can even choose
Free Delivery.

Upload your own →
Haven't got artwork? Design Online
---
Edit
Use our editor to easily change fonts, colours, images, and add a logo. Choose images from our library of over 14 million or use your own. Turn a ready made design into leaflets or flyers that suit your business.
Print
Choosing from a wide range of sizes and finishes, configure how you'd like it printed. We'll print your design in hi-definition and deliver it FREE of charge.

SAVE YOUR DESIGNS: Sign in or register
Sign in or register to save your Flyer design and come back to it anytime, on any computer.

ALREADY A CUSTOMER?: Sign in for instant reordering
Got print files? Upload Your Own
---

Wide Range of finishes and a host of different products.
Select your turnaround time to suit your requirements. Not in a hurry? Choose saver delivery and we'll deliver for FREE.

Upload your Hi-res Jpegs, TIFs or PDFs. Take a look at our file supply guide, for full artwork specifications.
We'll print in hi-definition. Backed by our Quality and Delivery Promise.

View all Leaflet printing options:
(100gsm | 115gsm | 150gsm | 170gsm)

View all Flyer printing options
(250gsm | 280gsm)

Leaflets
Our Printed Leaflets range from A6 to A3. Choose from options like 100gsm or 115gsm leaflets. Make an impact with our thickest paper 150gsm gloss, 160gsm Recycled or 170gsm silk.

Printed Leaflets are ideal for distributing through letterboxes, using as inserts in newspapers and magazines, and for leaving in other premises where people might be interested in your services.

Flyers
Our Printed Flyers range from A7 to A3. Choose from Medium Weight card options 250gsm or 280gsm. Go heavyweight with our thick 300gsm or 400gsm Flyers. All available with a wide range of options.

Flyerzone provides high quality but cheap flyer printing, in popular sizes such as A5 and A6. Design and print your flyers and leaflets online, or upload your own file.