So many fonts, so little time – Or how to chose and use fonts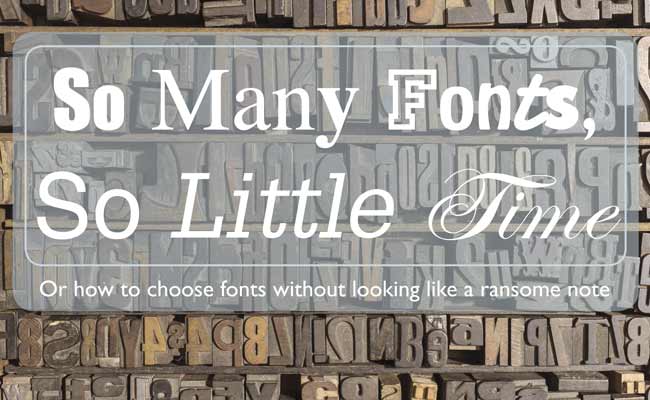 If you look through a list of fonts in any computer programme it's unlikely you'll find a list of fonts totaling less than 100, our designers choose from 1700 fonts, giving you a selection that suit the design, but how best to use them?
To help you out we thought we'd put together a bit of a guide.



Size matters.

You can use different sizes of text to tell anyone reading your design what order to read the information in, usually the title is the largest text, grabbing the reader's attention, then the subtitle, persuading them to read on, and finally the main text.
You can see in the example to the right that it's hard to see where to start reading when the heading font and subtitle font are the same size, the leaflet doesn't grab your attention as much as it should.



Different backgrounds.

One of the great things about Flyerzone's online designs is you can change the photos, when you change a photograph on a design then you might also need to change the text colour so that the text stands out. As you can see in the example on the left, the darker background needs the font to be in a light colour. If the photograph is dark then a light colour font, if the photograph is light then a dark colour font should be used.



Easy to read.

A beautiful curved font might look great as a title or subtitle but can be quite hard to read after a few lines at a smaller size. Perhaps a curved font should be used for the title and then a simple font used for the main text. This way, the touch of elegence you wish to give your design, product or service doesn't affect the ability to get the message across.



Shape.

It's worth considering how the text is arranegd on the page. You don't want the text to appear as though it's been splatted onto the page. The way in which text is arranged on the design guides the reader to find the information they are looking for, in the example to the left, the text set to the right leads your eye to the photograph, not down to the contact details.
Flyerzone have thousands of online designs you can edit and order to promote your business, services, event or product,
Have a browse and see what grabs your attention, it'll grab your customers' attention too!

Click below to get started
Business cards, Posters, Flyers & Leaflets, Folded Flyers & Leaflets
About The Author
Related posts