May The Forums Be With You!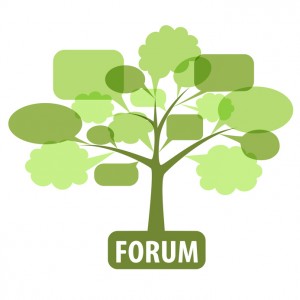 Forums are a great way for like-minded people to share knowledge and experiences.
For small businesses there are hundreds of forums to choose from so you can join one that is specific to your sector and stay up-to-date on developments in your industry. This keeps you updated on the competition and can make you aware of big events such as trade shows, new technologies and legislation changes for your industry.
There are also general forums for entrepreneurs and people who are self-employed. These can help with a variety of business management aspects such as bookkeeping, tax returns, searching for new employees and launching a marketing campaign. They are an excellent resource for when you are first launching and may have to undertake these tasks but find that they fall out of your area of expertise.
You will often find that someone has asked the question before you so make sure you do a search before posting a question to see what other forum members have already discussed in similar topics. This may answer your question completely or simply help you to tailor your question and get a more exact answer in return.
Always try to be a forum contributor as well and not just a taker. If you see a question on a topic you have some experience on, be sure to have your say and help out. Forums often show how many posts you have in your profile and people are more open to responding to those who have contributed on other threads.
Here are some of our favourite general forums for you to check out today:
http://www.startupnation.com/business-forum/
http://www.ukbusinessminds.co.uk/forums/
http://www.ukbusinessforums.co.uk/forums/
http://www.ukbusinesslabs.co.uk/forums/
http://www.ukmarketingnetwork.co.uk/forum
Be sure to search for industry specific forums for your business as well to reach out to similar professionals and companies.
About The Author
Related posts