Planning your wedding stationery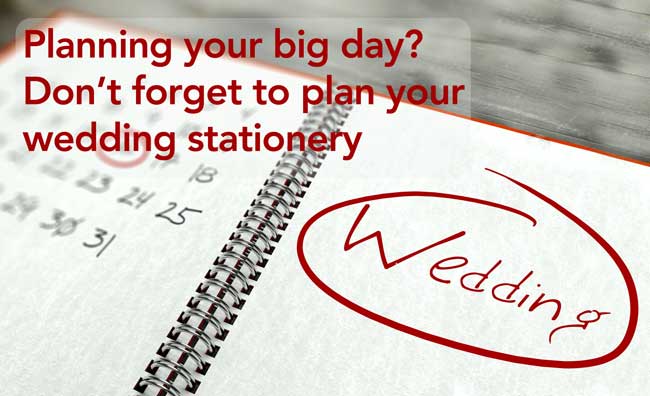 Planning a wedding can be stresfull and overwhelming, working out what order and when to get things done.
While the bride is rushing out to try on dresses and the groom being fitted for a suit and deciding between the Rolls, Bently or vintage bus it's easy to forget to order the print.
Our small timeline guide should hopefully help you plan what needs to be ordered when;
12 months to go,
You've got your date set and know when you want the big day to be; time to print and send the 'Save the dates' These are often little cards (business card size) announcing the date to help ensure your family and friends don't book their holidays for the same day! You can send save the dates out at 6 months to go, but family and friends might have planned in advance, especially in the summer months.
6 months to go,
Time to send out the actual invitations. You may be printing up separate invitations and RSVP cards, you might just make the RSVP part of the invite – that's up to you, but we'd recommend getting invites done in pleanty of time with a couple of spares to cover spelling errors or someone you've just realised you've missed off your invite list (I nearly forgot to invite my own parents!)
You can send invites out at 4 months, but it gives you less time.
4 months to go,
It's getting close now and you'll have a number of things booked and getting excited and stressed but excited.
You'll hopefully have your RSVP's back (and perhaps a second round of invites sent out if you've had a number of people say they can't make it) Now's the time to start thinking about table stationery such as table plans, place cards and menus, this way there's still a bit of time to ensure everything arrives in pleanty of time.
1 month to go,
The last thing to print is the order of service, this should be printed last so that any late changes to the arrangements (if you're unfortunate enough to have had to change reception venue) can be added, This can be printed as a single A5 card, or if you wish our folded options make for a nice mini booklet.
Wedding day,
You shouldn't be thinking about print, you should be enjoying the day with family and friends!
2 months after the wedding
Unless you've had a long honeymoon you'll have settled into married life, opened all the wedding presents from your friends and family, found space in the kitchen for the new mixer and space on the dining table for that huge glass fruit bowl uncle Bob bought (ours has goldfish in it!).
Now's the time to get the thank you cards printed and sent, some people like to get the cards printed before the wedding, but if you're wanting to use a photo from the big day then now's the best time.
Our folded business cards make great thank-you cards, having space on the front cover to put a picture and enough space inside to write a quick note of thanks.
Hope your wedding planning runs smoothly,
About The Author
Related posts