Some of our favourite poster Ad Campaigns
Poster and Flyer adverts can still be the most powerful way to get your message across, as these highly innovative poster advertising campaigns show.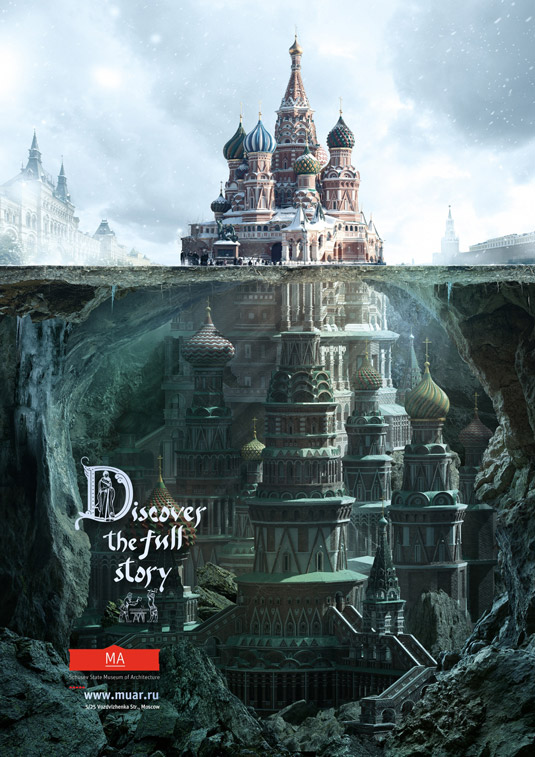 Discover the full story of some of Russia's most famous buildings at the Schusev State Museum of Architecture
1) This beautiful illustration of St Basil's church in Moscow was created by ad agency Saatchi & Saatchi to promote the information available at the Schusev State Museum of Architecture. The campaign features a series of beautiful photographs of famous Russian landmarks, all of which travel underground and feature the tagline 'Discover the full story'.

Lego
2) This campaign brings out the child in us all! Showcasing what we actually see when we used to play with the Lego blocks.
There is no text included within this ad, which we love because there are no words needed to portray the love of the product. This is a case where simple imagery speaks for itself.
Penguin Books
3) Last year Penguin Books promoted it's audiobooks with a brilliant print ad campaign featuring three well known authors – William Shakespeare, Mark Twain and Oscar Wilde. The were all acting as headphones and talking into the ears of their listeners.
Developed by team at McCann Worldgroup India, the campaign went on to won a Gold Press Lion at Cannes International Festival of Creativity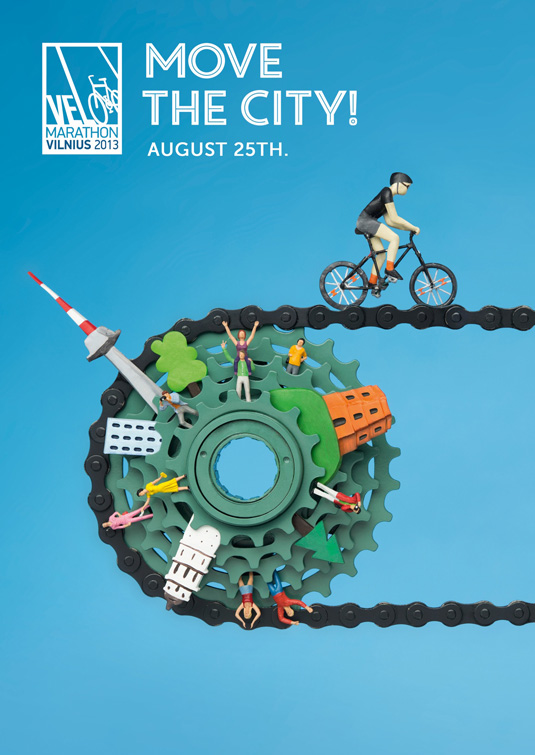 Velo marathon
4) We love this design for the European Velo Marathon, an annual biking event in which around 10,000 cyclists take part. Designed by McCann Erickson, Lithuania, the clever concept features a city-like scene set on the gears of a bike, accompanied by the tagline 'Move the City'.
Big Cat, Small Cat
5) This Whiskas campaign features a household cat in various scenarios in the wild. Highlighting the basic instincts in a cat, the clever campaign was shot by photographer George Logan. Adding a small kitten as a big cat in the wild, the series of prints include the cat hunting down gazelles, elephants and zebras in the wild.
Are you feeling inspired? Take a look at our latest online designs that are fully editable. Change images, text, fonts, font colours and even upload your own logo!
Also check out this months offer, 5000 A6 single sided flyers on 150gsm gloss paper for only £39!
To view this offer click here.
About The Author
Related posts