NEW! Unique Embossed Business Cards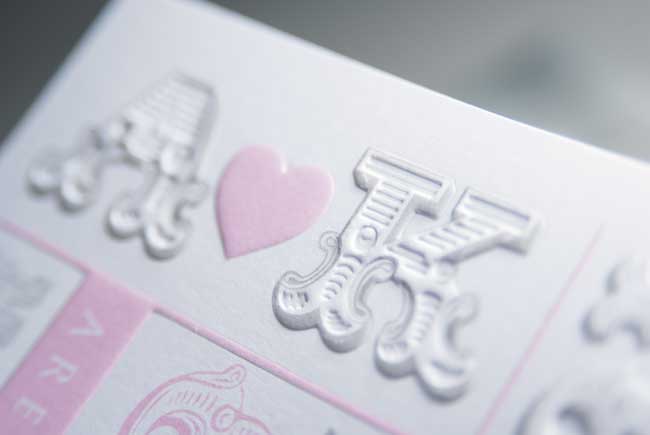 We've added a brand new range of Matt Laminated Business Cards that includes embossed, gold & silver foiling to make your next business cards that bit more unique.
Matt Laminated & Embossed business cards are printed on our thick 400gsm board, we apply an ultra smooth matt laminated coating before embossing the detail required giving a subtle, feelable effect that adds class to your print. The raised (embossed) pattern or design stampted onto the card, paired with the luxurious matt lamination just begs to be touched.
In honour of the launch of our matt laminated & embossed business cards we've been bumping some interesting (if not useful) facts about all things bumpy. Look what we bumped up.
Did you know?
1 Braille is named after its creator, Frenchman Louis Braille, who went blind following a childhood accident. In 1824, at the age of 15, Braille developed his code for the French alphabet, publishing his system, which subsequently included musical notation, in 1829
source:wikipedia.org
2 The practice of nudging your post on a message board to the top is known as 'bumping'. 'Bump is an acronym for 'Bring Up My Post'
source:urbandictionay.com
3 In June 7, 1906 in the town of Chatham, New Jersey, USA the first speed bumps were created by raising the pedestrian crossings in the town by 12cm above the road surface.
source: wikipedia.org
4 Mr Bump was one of the original characters in Rodger Hargreve's 'Mr Men' series created in 1971
source: mrmen.com
5 Bubble Wrap was created in 1957 by two inventors, they were attempting to create a textured plastic wallpaper. While the result was useless as wallpaper it has made a great packing material (and great amusement) for more than 50 years!
source:wikipedia.org
If you want to make an amazing impression and stand out with something really special then our new matt laminated business card options could be just what you've been looking for.
About The Author
Related posts