Leeds Print Festival kicks off in style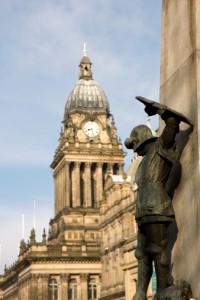 If you're looking for a little inspiration in your upcoming design project for flyers, leaflets or even just a simple poster, then there may be no better place to visit this month than Leeds. That's because the second annual Leeds Print Festival – which runs until January 27th – is showcasing some of the finest print fairs and exhibitions, while also hosting talks from leading designers Alan Kitching and Matthew the Horse.
The event is organised by Aaron Skipper and Amber Smith, and takes place primarily at Leeds Gallery, where the popular visitor attraction is hosting the works of artists including Dan Mather, Marc Ross and Sarah Milton. Visitors also have the chance to take part in the Pop-Up Print installation, which lets people get a hands-on experience that will help them create beautiful prints of their own.
A specialist agency was brought in to create a range of large screenprint installations for the festival. Speaking to Design Week, festival organiser Amber Smith said: "The screens work very well as signage for the space, but as many visitors to the festival are new to print it is nice to show the other side of the process and what makes the magic."
Interested? The Leeds Print Festival takes place at Leeds Gallery, Munro House, York Street, Leeds until the end of this week – find out more at www.leedsprintfestival.com!
About The Author
Related posts